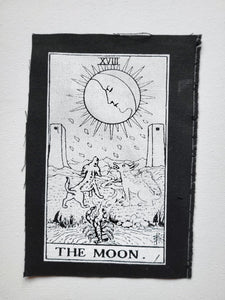 The Moon offers you a place to rest and integrate everything that you have picked up in your journey. The 18th card in the Major Arcana, The Moon offers you to explore your subconscious and face what lurks beneath the surface.
Silkscreened on 8oz cotton canvas with a raw edge, the print dimensions are 4.5x8"" and the patch is 6x9.5".  
Note: Patches may vary in size from patch to patch, as we keep the waste to little to none.