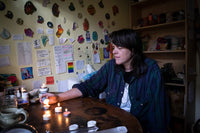 BY TOOTH AND CLAW CLOTHING
clothing and accessories for the land lover, earth based working class witch and/or wizard
small batch, artisan made, holistic focused, low waste, local-focused, artist, queer, mad, and crip run
nature, tarot, astrology, runes and mystic goods, for daily use and personal altar
By Tooth And claw fabric classics
by tooth and claw metal classics
WHERE THE SAYING "BY TOOTH AND CLAW" COMES FROM
To note: Missionaries went all over the world trying to convert people. They did the same thing to the different tribal groups in Europe as they did to the other tribes overseas. Before nationstates and church (aka colonization), Europe was based in clans, tribes, and family groups. They would be loosely banded later as Scotland, England, Wales, Netherlands, Germany, etc., but mostly because of a need to come together for war and necessity.
When the missionaries were studying the witches and their way of life, they were baffled to witness their death practices. Unlike the missionaries, witches gave their body back to the land as an offering to the birds of the air and the beasts of the earth, which consumed them "by tooth and claw." They would sometimes report this as "red of tooth and claw" to represent blood.
In this way, the witches honored the cycle of nature by feeding the whole. There was no separation between themselves and all other living things. The missionaries were astounded by the simplicity of their death ritual, a simple opening of space and then a return to the earth.
ABOUT ME
Hi! I'm Heidi, and artist and a tarot reader.
I decided to make clothing inspired by the tarot, and started By Tooth And Claw Clothing on my 42nd birthday, in the middle of the pandemic, in July 2020.
I hope you enjoy these goods as much as I do, and the magic of the cards can make your daily life a little better, a little sweeter.
Want to see me at my day job? Book a tarot reading with me!
Book a Tarot Reading
FIND BTACC IN THESE LOCATIONS
email bytoothandclawclothing@gmail.com to talk about vending
By Tooth And Claw Clothing is already in these little hideouts:
guido's cafe, port hardy bc
two trees, tofino bc
reSearch, tofino bc
la perouse bank, tofino bc
soul star metaphysics, courtenay bc
cream consignment and vintage, victoria bc
little shop of strange, victoria bc
the healing well, victoria bc
tosh, qualicum beach, bc
the kube, gibsons, bc
raven's veil, vancouver bc
BLIM, vancouver bc
pressure point, vancouver bc
slice of life, vancouver bc
rambling rose, winlaw bc
moon monster, nelson bc
the hermits lamp, toronto on
bellwether consignment, fredricton nb