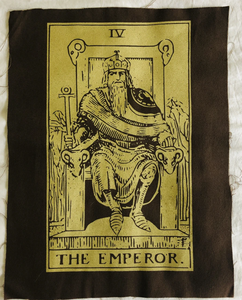 The Emperor is all about healthy physical boundaries. Is it what you need? Would it be in a better structure? What is fair and right to you? How much time do you need? Healthy physical boundaries is where it is at, and the Emperor will help you get it.
Silkscreened on 8oz cotton canvas with a raw edge, the print dimensions are 10x16.5" and the patch is 12x18".  
Note: Patches may vary in size from patch to patch, as we keep the waste to little to none.