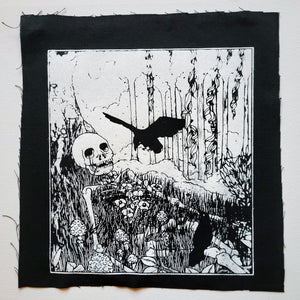 A skeleton lies under a tree, deep in a forest.  Grasses, flowers, and mushrooms grow up between the bones, partly burying it within the earth. A bird is flying either down to land on the skeleton, or up from the skeleton where it was chilling. Illustration by Bug Cru, @soft.worlds on instagram.
Silkscreened on 8oz cotton canvas with a raw edge, the print dimensions are 9x10" and the patch is 12x13".  
Note: Patches may vary in size from patch to patch, as we keep the waste to little to none.