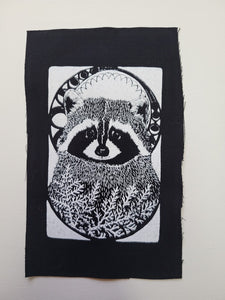 I love Raccoons. My favorite cartoon growing up was The Racoons, an environmental cartoon about forest animals and their fight against a super polluter, capitalist, factory run by pigs at the end of the forest. I didn't catch onto the symbolism back then, but now it's clear as day.
I have a family of racoons that live near me, and I get to see their babies sometimes. Their hands and how they can pick things up intrigue me. They are wonderful animals.
Design by so-called Victoria artist, Estraven Lupino Smith, @wildnwayward on Instagram. 
13x16" in size, silkscreened with white ink at BLIM (Vancouver) on 8oz cotton canvas bought at FabricTime (also in Vancouver). Cut, tagged and stored at my house until you buy them, and then I ship them away!