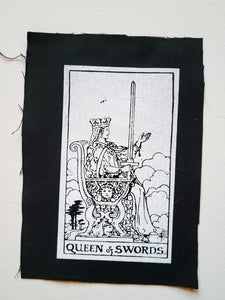 The queen in the minor arcana holds the mature yin energy in relation to the associated suit. The queen of swords holds intellectualism and no bullshit. She will listen to you, but if you are wrong, she will not hold back her tongue and cut your metaphorical head off. In some of the decks you will actually see this queen with a severed head in her hands, sitting there calmly in witness. If you speak to her she will not coddle you, but instead hear you, recieve you, and school you.
Silkscreened on 8oz cotton canvas with a raw edge, the print dimensions are 4.5x8"" and the patch is 6x9.5".  
Note: Patches may vary in size from patch to patch, as we keep the waste to little to none.