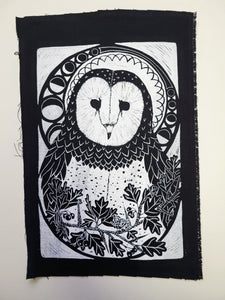 I love owls. I grew up on a farm that had a few old barns on it. One metal, one wood. The Owl Society - I'm not too sure exactly what they were called, but they were a society that took care of owls, and in this case barn owls! Anyways, the Owl Society folks came by and made a barn owl box in the wooden barn for barn owls to roost in. 
We would check the space under their box for owl pellets and would open them up, finding mice skeletons and the like that they ate on the property. I liked going into the barn and hanging out with the barn owls.
The owl in this design isn't a barn owl, I'm not too sure what kind of an owl it is. But it is an owl, and for that, I love it.
Design by so-called Victoria artist, Estraven Lupino Smith, @wildnwayward on Instagram. 
6.5x8" in size, silkscreened with white ink at BLIM (Vancouver) on 8oz cotton canvas bought at FabricTime (also in Vancouver). Cut, tagged and stored at my house until you buy them, and then I ship them away!