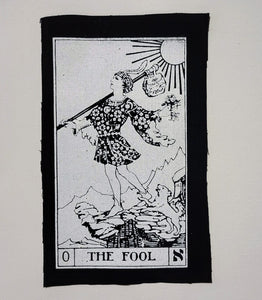 The Fool is the 1st card in the Major Arcana, represented by the number 0 to represent the great reset. Representing a new journey, the Fool follows the fresh energy into new lessons, their path appearing as they go.
Silkscreened white on 8oz black cotton canvas with a raw edge, the print dimensions are 4.5x8"" and the patch is 6x9.5".  
Note: Patches may vary in size from patch to patch, as we keep the waste to little to none.