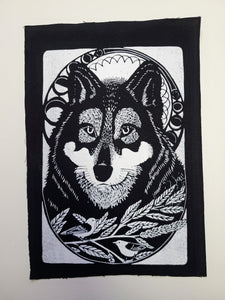 Wolves fascinate me. At the end of my street there is a man who has a white wolf for a pet. I think he thinks of the man as his pack, because when the man goees out, he howls for him, looking for him the way a wolf howls to locate the pack. 
I loved learning about how the "lone wolf" stereotype was a myth. That the wolves hunt and exist in a pack. That no wolf stands alone. They are family oriented, loyal and fierce.
Design by so-called Victoria artist, Estraven Lupino Smith, @wildnwayward on Instagram. 
6.5x8" in size, silkscreened with white ink at BLIM (Vancouver) on 8oz cotton canvas bought at FabricTime (also in Vancouver). Cut, tagged and stored at my house until you buy them, and then I ship them away!