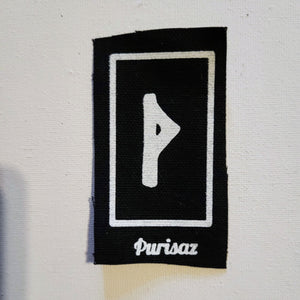 The runes are one of my favorite things. Dating way back before tarot became a thing, runes are one of the prime ways my Northern European ancestors would have divined. 
The 3rd letter in the Futhark alphabet, Purisaz, is also known as Thuriaz (as runes come from a phonetic tradition), and is the symbol for gateways, new awakenings, new possibilities, and breaking down of boundaries.
You can see that the image of the rune itself looks like a thorn. When you draw this rune know that although the situation you're casting about may feel like a thorn in your side, its purpose is to break you open to new and beneficial outcomes for you.
1x3", silkscreened on 8oz cotton canvas with a raw edge. Sizes may vary from patch to patch, as we cut them by hand and try to keep waste at little to none.