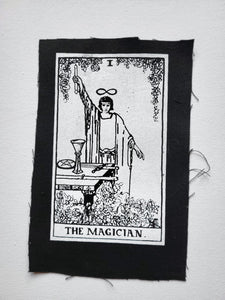 The Magician is the 2nd card in the Major Arcana, and invites you to see what you have learned now that you have started your journey. What is in your metaphorical tool chest? In what ways are you the eternal student, peeling back the next level of the onion?
Silkscreened white on black 8oz cotton canvas with a raw edge, the print dimensions are 4.5x8"" and the patch is 6x9.5".  
Note: Patches may vary in size from patch to patch, as we keep the waste to little to none.