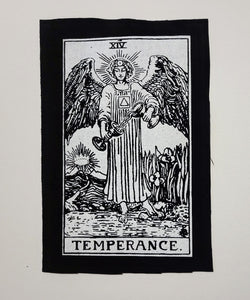 Temperance is the 14th card in the Major Arcana. One foot in the water, one foot on the solid ground, Temperance nurtures you post death, bringing you into right balance through nurturance and self care. 
Silkscreened white on 8oz black cotton canvas with a raw edge, the print dimensions are 4.5x8"" and the patch is 6x9.5".  
Note: Patches may vary in size from patch to patch, as we keep the waste to little to none.