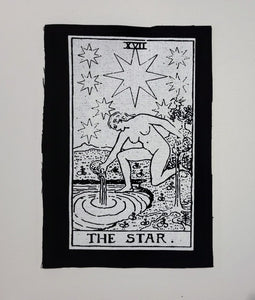 The Star is the 17th card in the Major Arcana. Coming right after The Tower, The Star is all about you feeling yourself in the large, big, expansive way where your energy is flowing and clear, connected to your higher purpose.
Silkscreened white on 8oz black cotton canvas with a raw edge, the print dimensions are 4.5x8"" and the patch is 6x9.5".  
Note: Patches may vary in size from patch to patch, as we keep the waste to little to none.