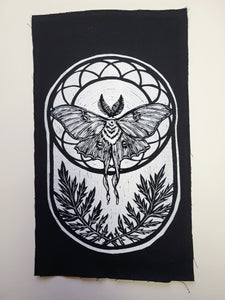 I had to wikipedia the Luna Moth as well. It looked beautiful, but I didn't know much about it. This is what I found:
The luna moth (Actias luna), also called the American moon moth, is a Nearctic moth in the family Saturniidae, subfamily Saturniinae, a group commonly named the giant silk moths.
The moth has lime-green wings and a white body. Its caterpillars are also green. Its typical wingspan is roughly 114 mm (4.5 in), but wingspans can exceed 178 mm (7.0 in), ranking the species as one of the larger moths in North America.
Design by so-called Victoria artist, Estraven Lupino Smith, @wildnwayward on Instagram. 
13x16" in size, silkscreened with white ink at BLIM (Vancouver) on 8oz cotton canvas bought at FabricTime (also in Vancouver). Cut, tagged and stored at my house until you buy them, and then I ship them away!