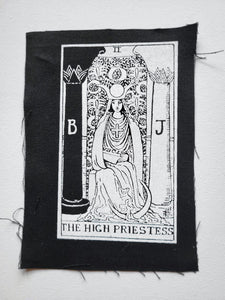 High Priestess is the 2nd card in the Major Arcana (3rd if you include The Fool, which is 0, the official reset button). High Priestess asks you to listen to your ancestors, the spirits, and move between the world between the worlds and this one. 
Silkscreened on 8oz cotton canvas with a raw edge, the print dimensions are 4.5x8"" and the patch is 6x9.5".  
Note: Patches may vary in size from patch to patch, as we keep the waste to little to none.