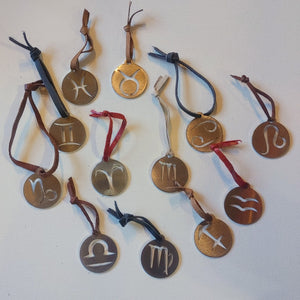 For all the giant nerds out there that want to use all 12 signs to map out their natal chart, work with electional astrology, or work magic with a more physical framework, here you are! Or maybe you just like the aesthetic, that's cool too. But I would encourage you to go beyond the surface, it's juicy down there. 
For 12 astro tokens individually, you would pay $240. With the set you pay $200. That's right I will reward you for your investment with a discounted bundle! 
All 1.5" round, recycled leather cords, 100% stainless steel, locally made in Vancouver by artist Cutting Metal With Photons, @imcuttingmetalwithphotons on instagram.