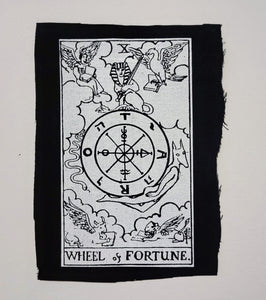 Fortune is the 10th card in the Major Arcana. Fortune represents a sound mind, body, and spirit when looking at things. You can trust that you are aligned with your higher self, and making any decisions from a place of wisdom.
Silkscreened white on 8oz black cotton canvas with a raw edge, the print dimensions are 4.5x8"" and the patch is 6x9.5".  
Note: Patches may vary in size from patch to patch, as we keep the waste to little to none.