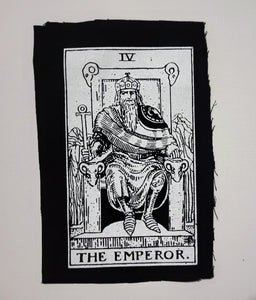 The Emporer is the 4th card in the Major Arcana.  Coming after the 3rd card of the Empress, the Emporer follows her lead, making sure that the physical domain (the Emporer's rule) has what is needed for creation. Boundaries, protection, time, energy, the Emporer is keeping track of it all, and making sure that the yin has a good yang counterbalance.
Silkscreened white on 8oz black cotton canvas with a raw edge, the print dimensions are 4.5x8"" and the patch is 6x9.5".  
Note: Patches may vary in size from patch to patch, as we keep the waste to little to none.