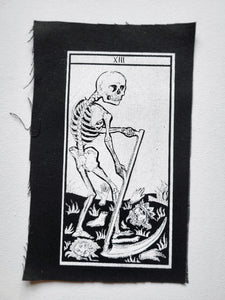 The 13th card in the Major Arcana, Death is making you let go. Whatever shit you were carrying with you is literally composting off of your hands and there is no going back. Shed what is dead and call it a day. I love this vintage design because instead of the alpha scythe coming down on your head, this grim reaper is post reap, literally just sweeping away the dead things like an old school janitorial staff. 
Silkscreened white on black 8oz cotton canvas with a raw edge, the print dimensions are 4.5x8"" and the patch is 6x9.5".  
Note: Patches may vary in size from patch to patch, as we keep the waste to little to none.