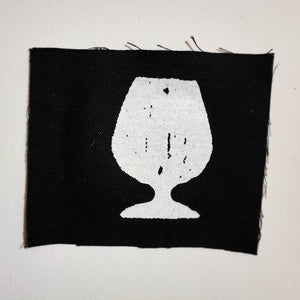 Cups are one of the 4 suits of the Minor Arcana (tarot). Cups symbolize the water element, and how it impacts that on our psyche. Intuition, feels, emotional depths and the navigation of these worlds is what this symbol holds. Illustration by artist Apple of the Underworld, @appleoftheunderworld on instagram.
Silkscreened on 8oz cotton canvas with a raw edge, the print dimensions are 2.75x3.5" and the patch is 7x6".  
Note: Patches may vary in size from patch to patch, as we keep the waste to little to none.