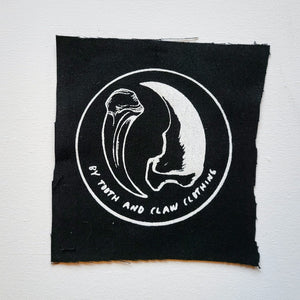 The BTACC logo is a tooth and a claw. The origins of the saying "by tooth and claw" is from the death ceremonies of early pagans. They brought the bodies of their death to meadows where the birds of the air and the beasts of the earth ate the bodies and returned that energy back to the earth. 
Silkscreened on 8oz cotton canvas with a raw edge, the print dimensions are 4.5x4.5" and the patch is 6x6".  
Note: Patches may vary in size from patch to patch, as we keep the waste to little to none.