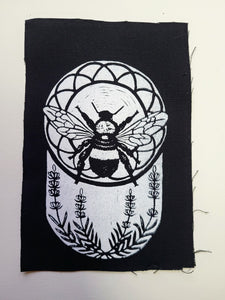 I have never known much about the different types of bees. I know the bumble bee, I know the smaller indigenous bees in my area, but I have never met the Bombus Bee before, and I have to say, I am quite drawn to it, and will probably google images of them later!
Design by so-called Victoria artist, Estraven Lupino Smith, @wildnwayward on Instagram. 
6.5x8" in size, silkscreened with white ink at BLIM (Vancouver) on 8oz cotton canvas bought at FabricTime (also in Vancouver). Cut, tagged and stored at my house until you buy them, and then I ship them away!