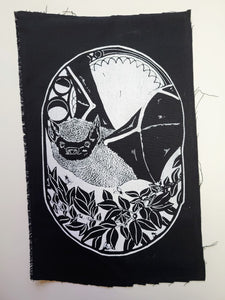 I was walking through the park one night and there was a swarm of bats hanging out in one of the big trees. I never found out why. I didn't see it happen again.
I am fascinated by these creatures who travel by sonar, and feel comfortable in the darkest of places. They pollinate too, which I didn't know until a few years ago.
Design by so-called Victoria artist, Estraven Lupino Smith, @wildnwayward on Instagram. 
13x16" in size, silkscreened with white ink at BLIM (Vancouver) on 8oz cotton canvas bought at FabricTime (also in Vancouver). Cut, tagged and stored at my house until you buy them, and then I ship them away!